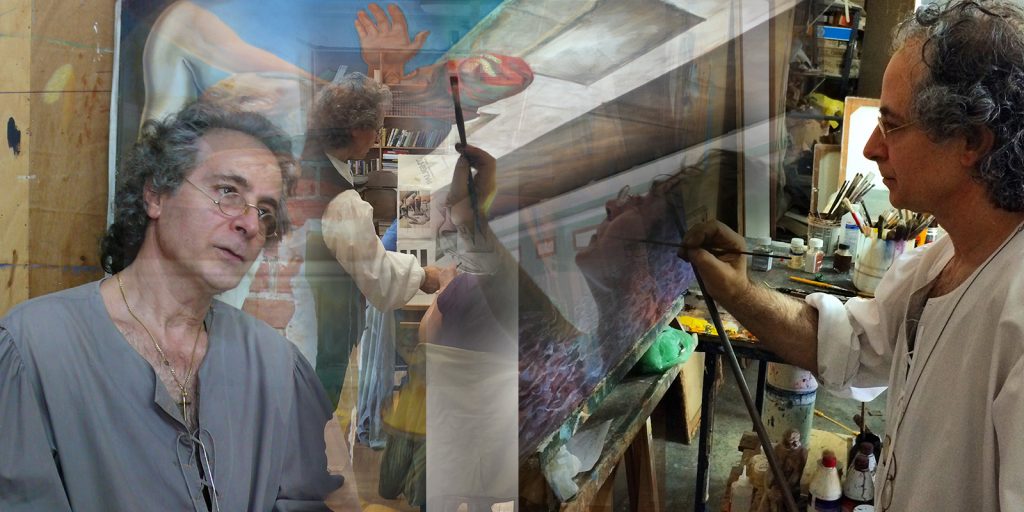 Born in Italy, Francesco Santoro had a passion for art at a very young age. His formal art training began in the 1970's, during the height of the avant-garde movement. While he embraced the movement, Santoro was most deeply committed to classical studies and to learning traditional methods and techniques. During this time, he met Master Giorgio De Chirico and became his devoted pupil. He remains De Chirico's ardent supporter.
In 1973, Maestro Santoro met Master Renzo Zachetti from whom he learned fresco technique. His talent and dedication led Santoro later to become an artist for the Vatican, creating and restoring religious art work and frescoes around the world.
Maestro Santoro studied and taught at the Brera Academy of Fine Arts in Milan. There he met art historians Raffaele De Grada and Francesco Poli. From 1983 to 1986, with De Grada and Poli, Santoro created conferences on new experiences of contemporary art.

Over the years, Santoro exhibited his work in many places, including: Gallery of the Lords, Vicenza; Gallery of the Torcello, Venice; Galleria Bacchiglione, Padova; Quadrennial of Milan, Milan; the Royal Palace, Como; the Royal Palace of Naples, Naples; and the Palazzo Aquila, Aquila.
Santoro has worked as an artist around the world. In 1992, Bourtiza Klaife, invited Santoro to paint the church of St. Nicholas in St. Petersburg.
He was exposed there to Soviet critics and artists, and, in 1993, he published Communist Utopia, a pictorial review from the Bolshevik Revolution to Gorbachev. In 1994, Professor Silvio Cecatto, philosopher and mathematician, introduced Santoro to the Royal Palace (Villa Garland Chinesello Balsamo).
Also in 1994, the Italian Government commissioned Santoro to create a monument in honor of the Italian Army, in the city of Brescia, in Piazza Milano.
In 1995, Santoro took on a new challenge. He was invited to Valencia, Venezuela, to fresco the Shrine of St. Anthony. In Valencia, he founded the Academia de Arte Giovanni Battista Scalabrini. The Academia has made a significant contribution to that city.
Also, in Venezuela, Santoro created several monuments, including one to Bolivar and one to Garibaldi.
In recent years, Maestro Santoro designed and built, in bronze, monuments of Blessed Giovanni Battista Scalabrini for installation in Valencia, in Houston, Texas, and Delray Beach, Florida, and in Rio Grande du Sul, Brazil.
Santoro, in 2000, designed a religious architectural complex for the University IUTEPAL, Valencia. In 2002, Santoro was commissioned to design and build the Church of Our Lady Queen of Peace, in Delray Beach. Santoro was called to Canada that year to design the decorative architectural elements and paintings of the Mother Church of the Christians. He also developed a 27,000 square foot series of frescoes for the Church of St. Anthony in Valencia and on June 2022 he finished one of the largest professional oil paintings of the world made by a single artist, at the same church, titled "The history of Salvation" which total area is 2.033 sqf.
Maestro Santoro's artistic philosophy remains linked to his interest in painting as a means of research and expression. He comes to New York City, for the seventh Summer, to create, to learn, and to teach. Santoro brings with him years of education and experience from his work around the globe. As he has done throughout his life, Maestro Francesco Santoro continues to devote himself to art as a way of learning about, and positively influencing, the world. He looks forward to working with his students in New York City, and to sharing his artistic passion and commitment.